What is Valet Parking? Everything you need to know about it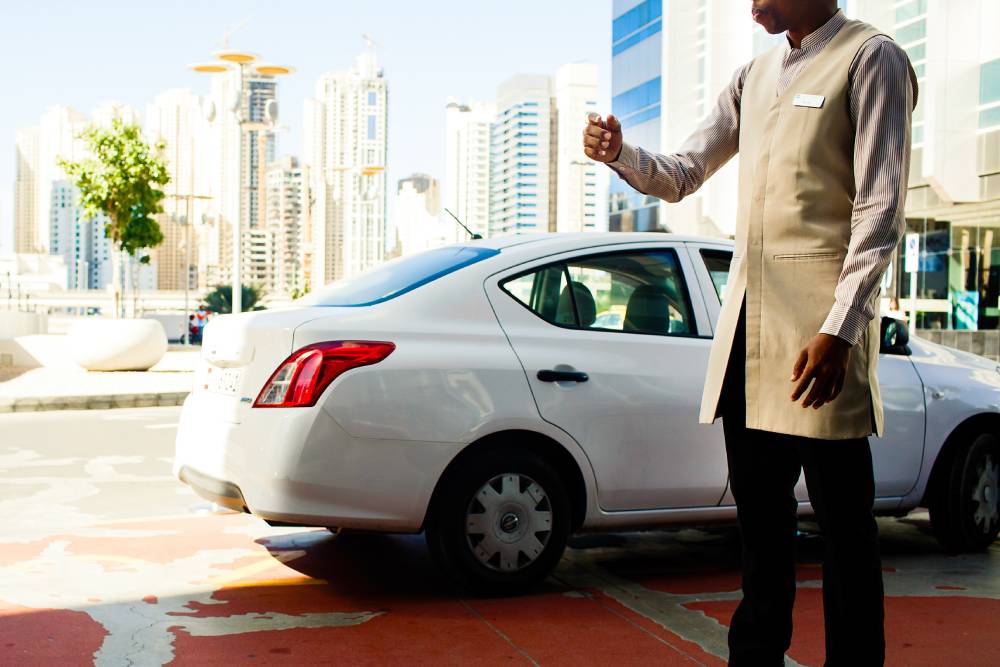 What is Valet Parking?
If you've ever visited any hotel and experienced that a nicely dressed driver opens your car door, greets you and parks your car for you while you get off the car and go inside the hotel without the hassle of finding a parking spot and wasting time that luxury experience is called Valet Parking and the driver is called a Valet.
So, what's the difference between Valet Parking and Self-Parking:
Valet Parking: You don't have to worry about finding a parking spot somebody else parks your car for you.
Self-Parking: You have to find a parking spot and park your car yourself.
How it works?
You drive to a drop-off point where a valet will greet you and give you a valet ticket, you leave your car there and when you decide to go back home you simply show your ticket to valet who will bring your car back at the pick-up point.
But here is the problem while he brings your car back you have to wait for your car (I know not so luxury).
Now imagine a scenario where when you're heading back, you request your car in advance with your phone and when you reach the pick-up point you see your car is already there waiting for you. Now that's luxury!
This is where Smart Valet comes into the picture, it helps you request your car so you don't have to wait. In other words, it helps luxury meets technology.
Who offers valet parking?
There are different types of venues that offer valet parking. Here they are :
Restaurant or Bar: Restaurants usually offer free valet parking , parking is usually owned the establishment or sometimes they park on streets.
Hotel: In hotels, valet parking is a luxury and a convenience to their guest. Hotels have their own parking space. Here valet parking fee can either be free or flat for 24 hours or different for day and night.
Airports: Here, time is precious, some airports offer valet parking for the convenience of their customers or that the customers don't miss their flights. Fee at the airport valet parking can either be flat or on hourly basis.
Casinos: Most casinos offers valet parking as a luxury experience for their customers.
Hospitals: Some hospitals offers valet parking so the patients or attendants don't have to spend time on finding a parking spot. Valet isn't a luxury here it's a need.
Shopping Malls: Shopping malls have high traffic volume so they offer their guests full parking facilities. Most of the malls have a reserved parking area for valet parking. Valet charges also may differ for holidays in Shopping Malls.
Events: In events, valets are usually hired for just the evening. The parking may be at an off-site location, a dedicated parking.
How much valet parking costs?
Depending on the establishment there could be a fee or it could be free. Some establishments such as hotels, casinos, restaurants etc offer free valet parking, while some charge a fee which is usually a flat amount or based on car parking time.
Usually the fee goes from Rs 100 to Rs 300 depending on the establishment
What are the pros and cons of valet parking?
Pros
Valet parking is especially convenient in bad weather
No hassle of finding a parking spot
You will save time
Cons
Valet Parking is generally more expensive than self-parking
How Smart Valet has made Valet Parking better?
Smart Valet brings technology touch into luxury and provides control to both customers and businesses.
With Smart Valet guest can now notify the valet desk in advance and valet desk can then send a driver to bring the car so Guest doesn't have to wait.
With Smart Valet businesses can run operations smoothly and improve their turn-around-time, which results in more revenue.
Here you can have all the information you need to know about Smart Valet
---